People like to play and win money when they play casino games at online casinos, right? A team member came up with a very interesting question, "how do online casinos prevent high rollers from cheating?"
This article does just that. CasinoWhizz looks at the security features that real money online casinos employ to stop high-roller casino VIPs from exploiting them.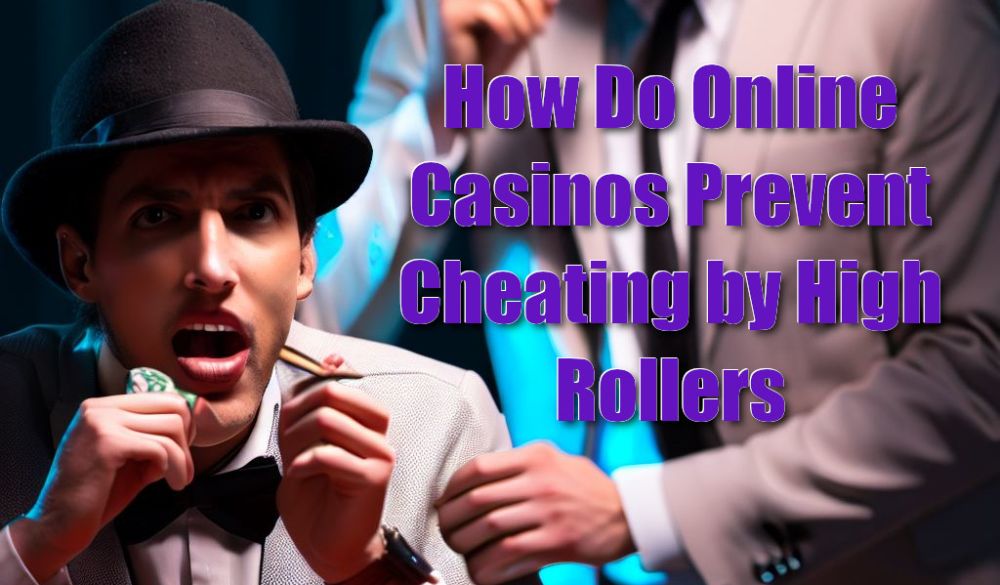 Why High Rollers Are Important to Online Casinos

High rollers are players who wager large sums of money at online casinos and in land-based casinos. They are important to online casinos because they contribute to the casino's revenue.
The bets they make can be a significant gain or loss to an online casino. In other words, a bunch of high rollers losses can boost the casino's revenue by a substantial margin.
High rollers receive special treatment in the form of perks at online casinos. Wild Casino is one of our favorite high-roller online casinos for Americans.
US high roller players can Instant withdraw casino wins up to $100,000 on the same day. They receive comps, luxury gifts, and invitations to exclusive events.
Finally, high rollers at the online casino enhance the site's credibility and financial health.
Anti-Fraud Systems

Anomaly Detection: Anti-fraud systems analyze player data taking into account high win rates, excessive withdrawals, or irregular patterns of betting.IP Tracking: They track IP addresses which helps to identify multiple player accounts that indicate fraud or collusion.Geolocation: Many legal online casinos in the US verify your physical location. That ensures you're not trying to access the casino from an area they restrict.Payment Verification: Systems flag payment transactions such as large deposits from unverified sources or multiple chargebacks.Pattern Recognition: They detect typical behavior that deviates from normal gameplay. For example, things such as consistent betting on specific outcomes or repetitive bets on certain games.Real-time Alerts: When an online casino suspects suspicious activity systems generate real-time alerts. The casino's review team will then investigate the player's account immediately.
High Roller Casinos
Monitor Player Behavior

If an online casino suspects a high roller of cheating, they'll check for unusual betting patterns. Pattern recognition is where they analyze any suspicious betting pattern.
Let's say a player plays blackjack by consistently betting the maximum bet per hand. Or, when the player changes the amount, he bets often.
Another thing that raises a red flag with an online casino is the player's win-to-loss ratios. When the player has a high win rate or wins large amounts of cash consistently or suspicious real money slots bets.
If the player places his bets faster than the average gambler. It's an indication that he's using automated or cheating software. Don't collude.
Next time you and your buddies decide to cheat an online casino by colluding, think again. Online casinos use sophisticated algorithms which detect player collusion to exploit the casino. Don't do that because they consider it cheating.
Tracking IP addresses helps online casinos to track players that register multiple accounts to cheat. Online casinos use a combination of techniques to prevent cheating.
When they detect cheating or when you use any measures that violate their terms and conditions. They'll confiscate your money and ban you.
Bonus Rules
Online casinos advertise generous bonuses to attract high rollers through their virtual doors. They do however have a bunch of bonus terms in place to ensure their bonuses are fair.
Special High Roller Bonuses

CasinoMax advertises a generous bonus of up to $9,750 to high rollers. Aside from high-value match bonuses, high rollers receive cashback on their losses and exclusive VIP rewards.
The more money high rollers wager at online casinos the better the perks they'll get. Those perks come via their VIP programs in the form of bigger bonuses and faster payout times.
Moreover, high rollers can participate in exclusive tournaments, or receive invitations to special events.
Wagering Requirements

Each bonus has a wagering requirement. That means you must bet a certain amount before you can withdraw your bonus wins. Consequently, that prevents high rollers from claiming multiple bonuses and cashing out.
Online casinos prevent high rollers from exploiting their bonus offers by imposing maximum bet limits. High rollers can't bet more than $5 or $10 per spin when they play slot machines.
Another thing high rollers and players in general overlook is the game restrictions. That discourages high rollers from focusing solely on games with low house edges or a high probability of winning.
Online casinos are good at bonus abuse detection. The software they use detects when a player registers multiple accounts to claim multiple bonuses.
High rollers must adhere to a thorough KYC (Know Your Customer) verification. That ensures they comply with the casino's terms and conditions.
The casino's customer support team monitors player inquiries and bonus complaints. It so happens that players slate the casino because they did not read the fine print attached to a bonus.
By implementing these strict rules. Online casinos attract high rollers with their generous bonuses while maintaining the integrity of their platforms.
High rollers can therefore enjoy their bonuses in a responsible and fair manner. Thus, benefitting both the players and the casino.
Games People Like To Cheat On
Anti Cheat Tactics Physical Casinos
In order to prevent high rollers from cheating, land casinos use a variety of measures. Automated shuffling machines shuffle the cards often which prevents players from counting cards when they play blackjack.
Dealer Rotation
Casinos regularly rotate their dealers to prevent dealers from cheating. That also makes it difficult for players to collude with their dealers.
Surveillance Cameras
Surveillance cameras closely monitor and record the action closely at the tables. If they suspect a player of any suspicious activity they'll ban the player.
Pit Bosses
Pit bosses check for unusual betting patterns, if they suspect a high roller cheating, they'll intervene.
Card Shoe Transparency
When you play baccarat at a casino both the casino and players can see the cards the dealer deals. That prevents any form of manipulation.
Chip Tracking
High-denomination casino chips have RFID technology to track them. That makes it difficult for players to swap chips or engage in chip-related scams.
Table Etiquette
Table games have strict rules that prevent players from cheating. They cannot use electronic devices and how many times they can touch the cards.
Regular Audits
Casinos conduct internal audits and use external agencies to test the veracity of their games and operations.
Ultimately, the measures casinos have in place prevent and deter high rollers from cheating. Guaranteeing fairness and security in physical casinos.
NL's most claimed casino bonuses
Conclusion: How Do Online Casinos Prevent Cheating by High Rollers
Online casinos love high rollers because of the amount of cash they wager when they play real money casino games. Hence the reason they offer them exclusive bonuses worth thousands of dollars.
Offer them special bonuses, free spins, invitations to exclusive events and instant payouts. However, they also relalize that high rollers can take them to the cleaners.
Hence the reason they have the nencessary security features in place that prevents them from cheating.